New Brunswick Mobile Shredding
On site shredding consists of driving a mobile shredding truck out to your New Brunswick office and shredding your materials onsite. Trucks are totally self-contained and power the shredding process on their own diesel engines.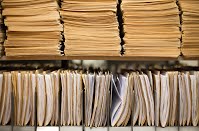 The trucks can destroy 6,000 lbs an hour, so many jobs only take a couple of minutes. In less than 15 minutes they can perform the standard office shredding purge. They can shred anything from one box to thousands of boxes.

For regularly scheduled service, locked cabinets are placed throughout your office at no charge. You simply drop in any documents, fill up the containers overtime, and a driver comes by on a standard schedule to shred your private business information.

How On Site Shredding Works in New Jersey:
Save up the files you want shredded in the provided cabinets (for ongoing service). No need for sorting through staples or paperclips.
A truck drives out to your location and your materials are destroyed into a secure compartment of the truck. You can observe the entire process.
A Certificate of Destruction is given to confirm the shredded was done properly.
The shredded bits are baled, pulped down, and recycled into tissue.
Get Free, no hassle quotes on Mobile Shredding services across New Jersey today!
On site shredding lets you view the shredding process right at your curbside, so you know it was done right. New Brunswick Shredding Service local contractors will drive anywhere in New Jersey to help you quickly shred you private information. Fill out the form on the left or give us a call at (732) 979-2577 to receive free quotes today!