New Brunswick Document Scanning
Organizations across New Jersey use document scanning to convert their documents into digital records. Once in a digital format, documents are easy to find, manage and share. In a digital system, locating a document is fast—a simple computer query will bring it right up.

If your organization has limited access, digital record keeping systems can restrict access to singular workers or groups of people. These functions protect every document by keeping them on a need-to-know basis. Additionally, all records have a retention date, and an electronic document management system will instantly erase outdated records.
Outline Your Scanning Procedures
To make the switch to a paperless office, you will first want to draft a document management policy. Figure out how long you need to retain each type of document, and determine which employees need access to them. Distribute your plan throughout your office.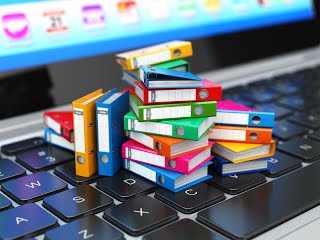 Second, you'll want to clean out every record your no longer want. Have anyone who uses official records eliminate documents that they no longer use. It can also be helpful to distribute shredding bins around your office. Have workers organize their personal records according to the official document management policy and destroy any documents that no longer need to be kept. There is no reason to scan documents that are no longer useful.
Step three is to determine what documents you will need going forward. The economic benefits of document scanning become very apparent the more a document is used and shared. If it is unlikely to be referenced going forward, then keeping the original hard copy of the document is the best option. Everything that remains is what you need to scan.
Finally it is time for the actual scanning. You have the option of purchasing equipment and giving the work to an employee or contractor. Or you can look to a professional New Brunswick scanning service. If you have a small amount of papers, using an employee should work. But as you increase the number of documents to scan, your capabilities will be dwarfed.
New Brunswick Shredding Service makes your document digitizing project easy. Using the best document scanning services ensures you get the expertise you need to manage the project. Our partners will help with document preparation, scanning, and then indexing the digital documents.

Get Free, no hassle quotes on document scanning services in New Brunswick!
If you have an office full of paper work you'd like to shred and get rid of but you want to scan it first, New Brunswick Shredding Service can help! We have trained professionals all over New Jersey who do this type of work everyday and have the most efficient and secure processes in the industry. Call us at (732) 979-2577 or fill out the form on the left for free quotes today!